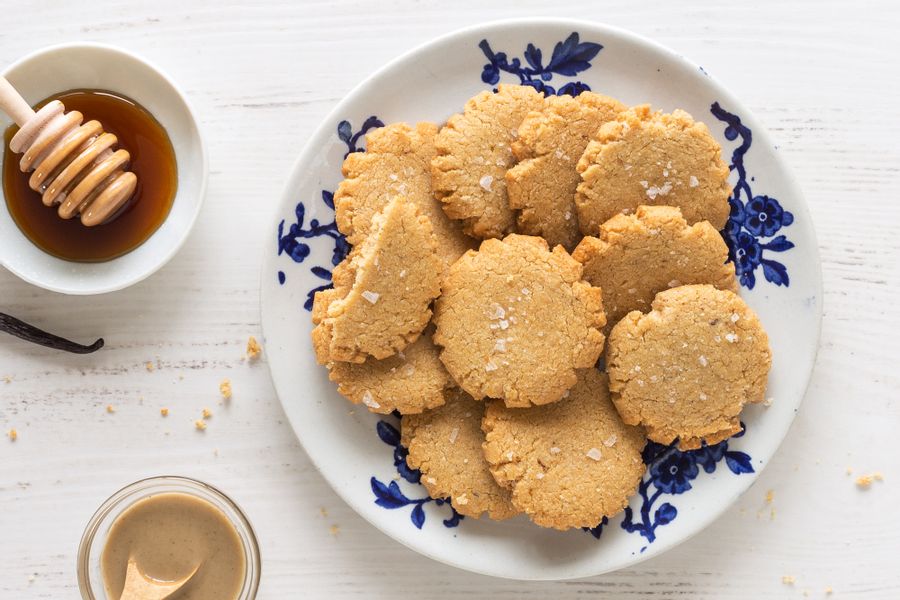 Almond-Tahini Cookies
Almond-Tahini Cookies
Makes about two dozen cookies
These paleo-friendly and gluten-free cookies are like a great wine—their flavor evolves the more you savor them. They bake only very lightly, emerging still tender within and just slightly firm around their edges. They continue to crisp as they cool on the sheet pans. Maldon salt helps bring out the nuances in the tahini and honey. If you have only one sheet pan, bake the cookies in batches.

Ingredients
1½ cups finely ground almond meal
½ teaspoon baking soda
1/8 teaspoon kosher salt
1/3 cup plus 1 tablespoon tahini
¼ cup honey
1 vanilla bean pod or 1 teaspoon vanilla extract
1 teaspoon Maldon sea salt, optional

Tools
1 small bowl, 1 medium bowl, mixer (optional), 2 sheet pans, parchment paper

1. Make the cookie dough
Heat the oven to 350ºF and set the racks in the upper and middle thirds of the oven.
In the bowl of a mixer fitted with a paddle attachment or in a medium bowl and using a wooden spoon, blend together the almond meal, baking soda, and kosher salt.
In a small bowl, using a fork or spoon, stir together the tahini and honey.
On a work surface, using a sharp knife, split open the vanilla bean pod lengthwise and scrape the seeds into the bowl with the tahini-honey mixture. Alternatively, stir in the vanilla extract.
Scrape the tahini-honey mixture into the almond meal mixture. With the machine on low speed or using a wooden spoon, mix to form a smooth dough.

2. Shape the cookies
Line 2 sheet pans with parchment paper or lightly grease them with oil.
Measure out level tablespoons of the dough; using your hands, roll the dough into 1-inch balls. Transfer the balls to the prepared sheet pan, spacing them about 2 inches apart. Using the palm of your hand or the flat bottom of a drinking glass, flatten each ball into a ¼-inch-thick round. Sprinkle the rounds with the Maldon sea salt, crushing the salt flakes between your finger tips.

3. Bake the cookies
Bake in the middle and upper thirds of the oven, rotating the pans once halfway through, until the cookies are golden brown and firm around the edges, 8 to 9 minutes. Remove from the oven and let cool for 5 minutes on the sheet pans.

4. Serve
Transfer the cookies to a serving plate. Serve at once, warm or at room temperature, or store in an airtight container for up to 5 days.
Nutrition per serving (1 cookie): Calories: 40, Protein: 1 g, Total Fat: 3 g, Monounsaturated Fat: 0.5 g, Polyunsaturated Fat: 0.5 g, Saturated Fat: 0 g, Cholesterol: 0 mg, Carbohydrates: 3 g, Fiber: 0 g, Added Sugar: 1 g, Sodium: 20 mg