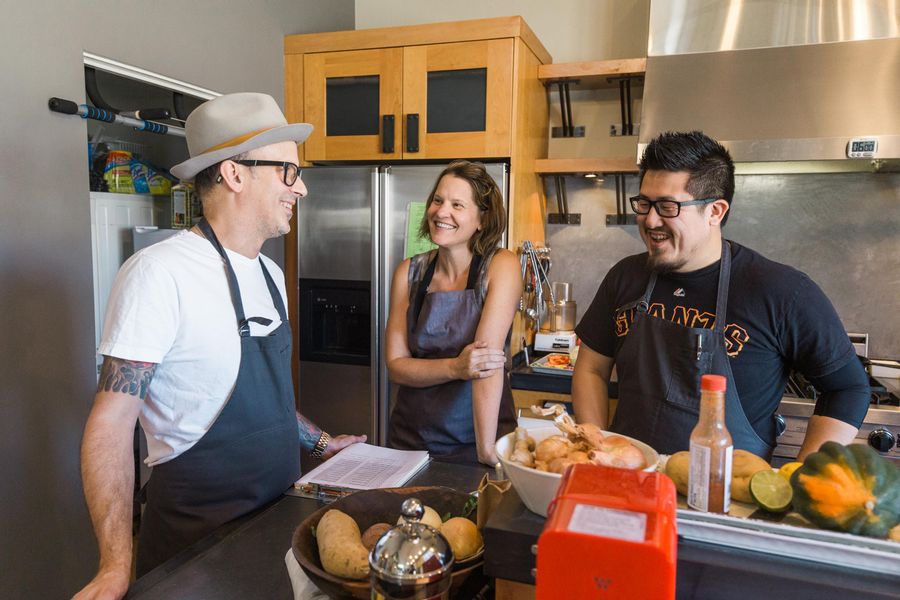 Get your party game on point
Sun Basket's Executive Chefs lay down some wisdom for holiday entertaining.
'Keep it simple' is our kitchen team's mantra for the holidays. Paul Conte (left), Justine Kelly (center), and Alan Li (right) all love feeding their family and friends. They've learned the hard way not to let stress get in the way of the good times. Here are a few of the things they do to keep the holidays happy.
Justine Kelly: "Start early. The night before a party, I pull out my platters and serving dishes (don't forget the utensils), get the wine glasses out, and stack up the napkins. Basically, anything that's not food is out and ready to go at least 24 hours before the party begins."
Justine Kelly: "Get the kids involved. My daughter, Stella, and her cousins love to decorate the table. They write up menus and place tags. It keeps them busy so I can focus on the things I need to do, and helps them feel included in the party."
Alan Li: Premix a cocktail. "I mix a big batch of Negronis (equal parts gin, sweet vermouth, and Campari) and store it in empty wine bottles. You can do this weeks, even months in advance because it only gets better with time. Just before the party, I put out a bowl of orange peel for garnish and bucket of ice and let my guests help themselves. I offer that, beer, wine, and a non-alcoholic option like iced hibiscus tea."

Justine Kelly: "Don't be afraid to outsource. When I prepare an entertaining menu, I focus on the things I really love making, like my smoked trout dip and caramelized onion apple tart (I cheat and buy puff pastry—you should too). I outsource everything else. I found that my friends love to contribute their own favorite party foods, and I fill out the table with store-bought cheese, charcuterie, and other party-worthy snacks."
Paul Conte: "Music, music, music. When I'm not cooking, I'm playing drums with my gypsy jazz band, The Sambassadors, so tunes are key to any gathering at my house. During the holiday season, Vince Guaraldi's Charlie Brown Christmas plays non-stop."