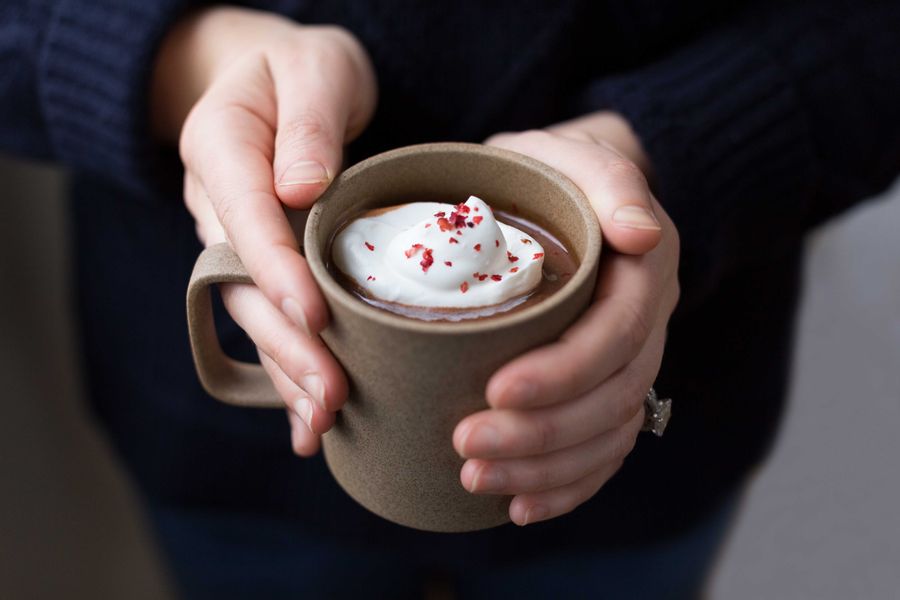 Our Good-For-You Hot Chocolate with Coconut Milk, Pink Peppercorns, and Saffron
Sun Basket's pastry chef, Paul Conte drafted a dream team of ingredients that are equally luxurious and nutritious for this wonderous winter warmer. Here's the breakdown:
Coconut milk—Creamy and dead-on delicious, this dairy-free milk may improve heart health, aid digestion, and help manage blood sugar levels. We make ours with unsweetened coconut milk beverage, but you can use the full-fat cooking coconut milk for an even richer version.

Dark chocolate—Who says candy has to be bad for you? This antioxidant powerhouse can relieve stress and stimulate cognitive function. It can also help improve heart health, overall cholesterol profile, blood pressure and blood sugar.

Dutch-process cocoa—This magic powder is a source of calcium and minerals like potassium, magnesium, and iron. While you can make this with whatever cocoa you have on hand, Dutch-process cocoa has less acidity than natural cocoa. It will deepen the color of your drink and give it a more chocolatey flavor.

Pink Peppercorns—Unrelated to black peppercorns, these are actually in the same family as cashews. They may reduce inflammation, blood pressure, and the effects of depression.

Saffron—It may be the world's most expensive spice, but researchers believe that saffron may have antidepressant effects comparable to Prozac. There's evidence that it may help stabilize blood levels, protect against cancer, Alzheimer's, Parkinson's disease, multiple sclerosis, and even insomnia.
Serves 6

Ingredients
6 ounces dark chocolate (between 60 and 70 percent cacao solids)
¼ teaspoon pink peppercorns, optional
1 tablespoon cocoa powder, preferably Dutch-process
4 cups unsweetened coconut milk beverage
¼ teaspoon saffron
5 tablespoons turbinado sugar, or ¼ cup organic cane sugar
3/4 cup heavy cream, optional
1 teaspoon vanilla extract
Kosher salt
Tools
Whisk, mortar and pestle or rolling pin optional, 2 small bowls, medium bowl, medium sauce pot
Instructions
1 Prep the chocolate and peppercorns
Finely chop the dark chocolate.

Using a mortar and pestle, a rolling pin, or the bottom of a bowl, lightly crush the pink peppercorns.
2 Make the hot chocolate
In a medium sauce pot over medium-low heat, bring ¾ cup water to a simmer. Whisk in the cocoa powder until there are no lumps. Add the coconut milk and saffron and bring just to a boil. Remove from the heat and whisk in the dark chocolate and sugar. Return to a low simmer and cook, whisking frequently, until the chocolate has melted, the sugar has dissolved, and the mixture is hot, 4 to 5 minutes. While the milk comes to a boil, if desired, make the whipped cream (see Chef's Tip, below).
Remove from the heat, whisk in the vanilla, and season to taste with salt.
3 Serve
Transfer the hot chocolate to individual mugs, garnish with whipped cream, if desired (see Chef's Tip), and the peppercorns, and serve.
Chef's Tip: To make the whipped cream for garnishing the hot chocolate, in a large bowl with a whisk or electric hand mixer, or in the bowl of a standing mixer fitted with a whisk attachment on high speed, beat ¾ cup heavy cream until soft peaks form.
Nutrition per serving: Calories: 220, Protein: 3g, Total Fat: 14g, Monounsaturated Fat: 0g, Polyunsaturated Fat: 0g, Saturated Fat: 9g, Cholesterol: 0mg, Carbohydrates: 27g, Fiber: 0g, Added Sugar (turbinado raw sugar): 11g, Sodium: 80mg