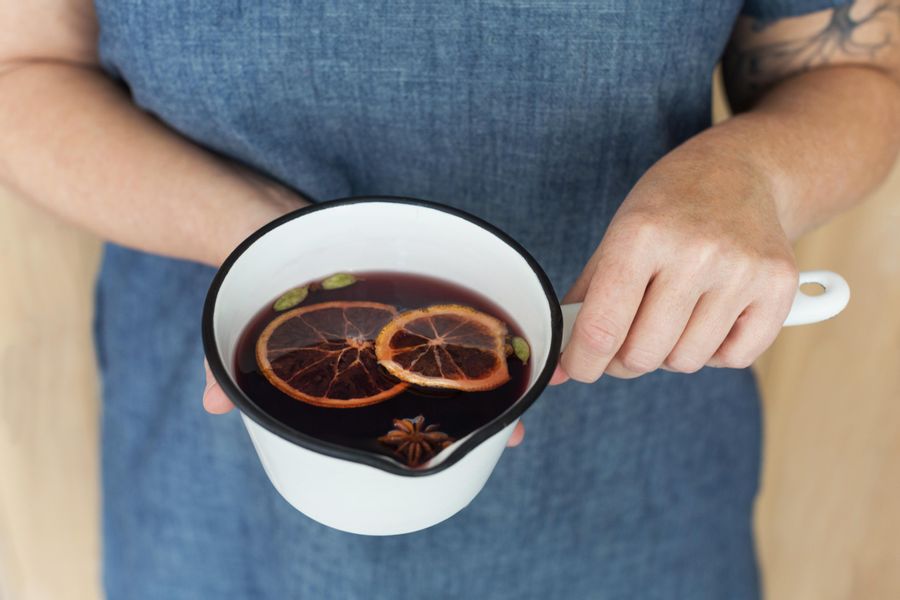 Warm up with Spiced Wine
When guests show up on a cold winter night, there's no better way to greet them than with a mug of warm spiced cider or wine. (And when we're a guest, we're not above dropping a hint by showing up with a gift of mulling spices.) Make it in your slow cooker to keep it warm all night long, and serve it at a party (along with your Sun Basket Ultimate Party Platter).
To give these spices as a gift, pack them in muslin bags tied with butcher's twine or mason jars, and pair them with a bottle of wine or cider. (Don't forget the gift tag.) The recipe can be doubled or tripled for larger batches if you've got lots of gifts to give (just make sure to evenly distribute the orange slices and cinnamon sticks).
Mulling Spices
Makes 4 servings

1 orange
2-inch piece fresh ginger
4 cinnamon sticks
25 black peppercorns
10 allspice berries
8 star anise
8 whole cloves
4 cardamom pods

Prep the orange and the ginger
• Slice the orange into ¼" rounds.
• Cut the ginger into thin slices.
On a cooling rack set on a baking sheet, place the orange rounds and ginger slices and dry overnight in an oven with the pilot light on (alternatively, heat the oven to 200°F and cook until dried, 2 to 3 hours, flipping halfway through the cooking time.)
Mix the spices
In a bowl, combine four dried orange slices, 8 dried ginger slices, the cinnamon, black peppercorns, allspice berries, star anise, whole cloves, and cardamom pods. Pack for gifts or use to make mulled cider or wine.
Make mulled wine or cider
To a sauce pan or crock pot, add one bottle of red wine or one quart of cider along with the mulling spices. Bring to a simmer over low heat, cover, and cook until warm and infused with the flavors of the spices, at least 10 minutes before serving. Ladle into mugs and garnish with the remaining cinnamon sticks and orange slices.