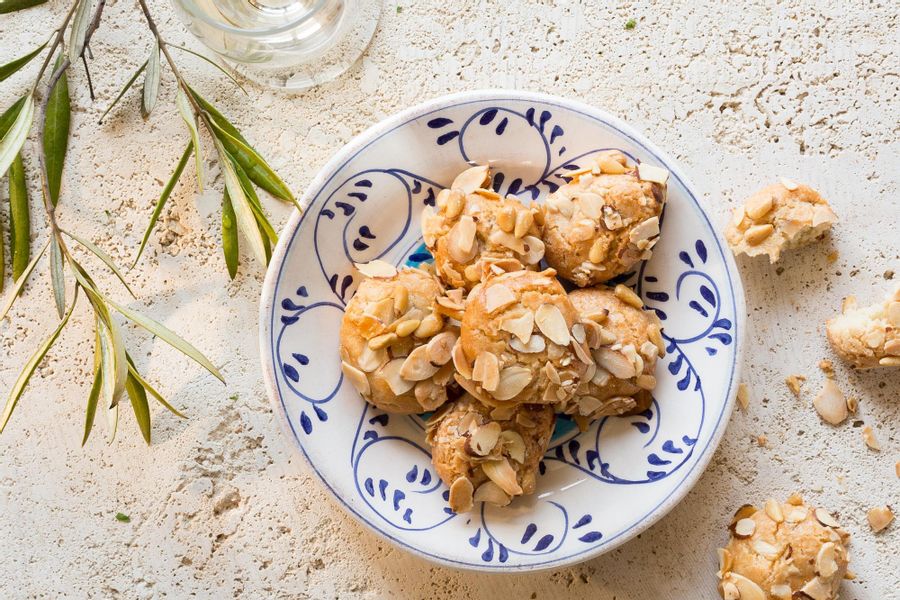 Sicilian Pignoli
Some of the best almonds and pine nuts in the world grow in Sicily's famous volcanic soil. So it's no surprise that the bakers there would come up with a cookie that features both so deliciously. Tender, chewy, and incidentally gluten-free, pignoli are found in Italian bakeries all over America, but they couldn't be easier to make at home. They're best served warm out of the oven.
Ingredients
For the cookies:
1½ cups almond flour
½ cup plus 2 tablespoons granulated sugar
2 large egg whites
For the decoration:
1 egg white
½ cup sliced blanched almonds
2 tablespoons pine nuts
1/8 teaspoon almond extract
Pinch salt
Tools
2 small bowls, 1 shallow bowl, 2 medium bowls, mixer, optional, sheet pan
1. Make the cookie dough
Heat the oven to 325ºF.
In a medium bowl, combine the almond flour, ½ cup sugar, and a pinch of salt. Stir to blend.
In another medium bowl using a whisk, or in the bowl of a stand mixer fitted with the whisk attachment, beat the 2 egg whites on medium-high speed, gradually adding the remaining 2 tablespoons sugar, until soft peaks form (the egg whites should be the consistency of whipped cream).
Fold the whipped egg whites into the dry ingredients, along with the almond extract, then stir to form a smooth dough.
2. Shape and decorate the cookies
Place the egg white in a small bowl.
In a shallow bowl, spread the almonds in an even layer.
Place the pine nuts in another small bowl.
Line a sheet pan with parchment paper or lightly grease with oil.
Using a spoon and your hands, roll the dough into 1-inch balls. Working with one ball at a time, dip the balls in the egg white, turning to coat. Transfer the balls to the bowl with the almonds, then roll in the almonds. Press with a few of the pine nuts. Transfer the balls to the prepared sheet pan, spacing them about 1 inch apart.
3. Bake the cookies
Bake in the oven until lightly golden brown, rotating the pan once halfway through, 25 to 30 minutes. Remove from the oven and let cool for 5 minutes on the sheet pan.
4. Serve
Transfer the cookies to a serving plate. Serve warm on their own or with a good tea, coffee, or grappa.
Makes about 15 cookies
Nutrition per serving (1 cookie): Calories: 110, Protein: 4 g, Total Fat: 8 g, Monounsaturated Fat: 1 g, Polyunsaturated Fat: 1 g, Saturated Fat: 0.5 g, Cholesterol: 0 mg, Carbohydrates: 9 g, Fiber: 2 g, Added Sugar: 6 g, Sodium: 45 mg