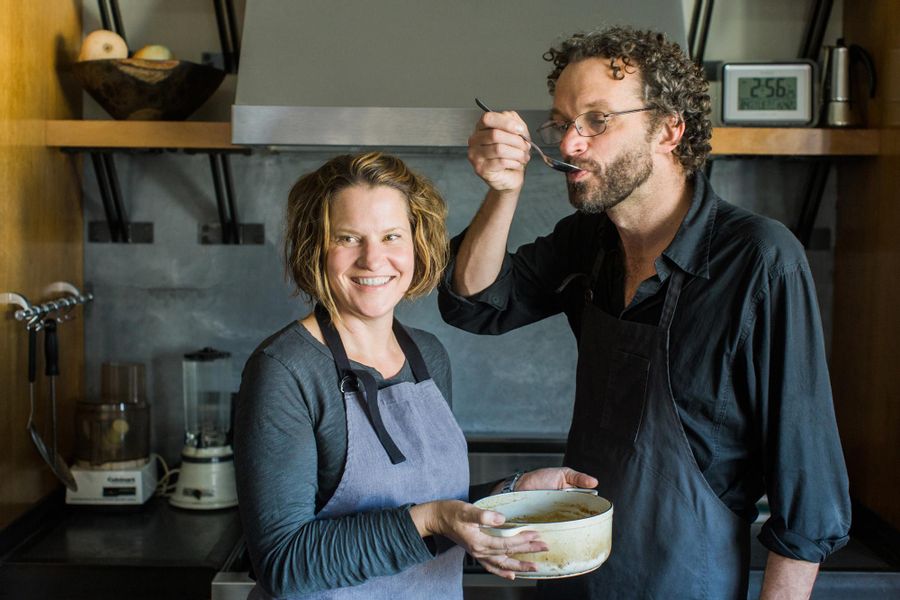 An Elegant Code for Your Thanksgiving Gravy
Matt leads the team of engineers who write the code that makes Sun Basket run. He knows how to do things like reverse a string using a recursive algorithm, and he can write FizzBuzz in several languages. (We have no idea what that means, but it sounds impressive.) And he regularly slays his opponents in daily bouts of Words with Friends. Now, with Chef Justine's help, Matt can add "awesome gravy maker" to his list of skills.
Ingredients
2 tablespoons olive oil
Turkey neck and giblets (liver, gizzard, heart), reserved from 1 turkey
Kosher salt
Freshly ground black pepper
2 shallots
2 celery ribs
1 large carrot
4 cups turkey or chicken stock
A few sprigs fresh thyme
A few sprigs fresh flat-leaf parsley
1 bay leaf
½ ounce dried mushrooms, such as porcini
1 stick unsalted butter
½ cup all-purpose flour
2 teaspoons tamari
Tools
Whisk, large glass measuring cup or bowl, medium sauce pot
Wash all produce before using
1 Brown the turkey neck and giblets
In a medium sauce pot over medium heat, warm the oil until hot but not smoking. Add the turkey neck and giblets, season with salt and pepper, and cook, turning a few times, until browned, 5 to 7 minutes.
While the giblets cook, prepare the vegetables.


2 Prep and cook the vegetables; make the broth
Peel and coarsely chop the shallots.

Trim the ends from the celery; coarsely chop the celery.

Trim the top from the carrot; coarsely chop the carrot.
Add the shallots, celery, and carrot to the pot with the turkey giblets, season with salt and pepper, and cook until the shallots soften, 2 to 3 minutes. Add the thyme and parsley sprigs, bay leaf, dried mushrooms, and the stock. Bring to a boil, reduce to a simmer, cover, and cook until richly flavorful, 30 minutes to 1 hour. Remove from the heat and strain the broth into a bowl or 1-quart glass measuring cup; do not wipe out the pan. Transfer the cooked giblets and the mushrooms to a cutting board and finely chop. Compost or discard the vegetables and herbs. Skim any fat from the surface of the stock.
3 Make the roux
In the same pan used to make the broth, heat the butter over medium-low heat. Sprinkle in the flour and cook, whisking constantly, until the flour begins to darken, 2 to 3 minutes. Slowly add the broth, whisking all the while. Bring to a boil, reduce to a simmer, and cook until thickened. Stir in the giblets and tamari. Season generously with salt and pepper. If not serving right away, refrigerate until ready to use. Just before serving, warm gently over low heat, whisking in any pan juices from your turkey.
Makes about 1 quart, enough to serve 10 to 20.