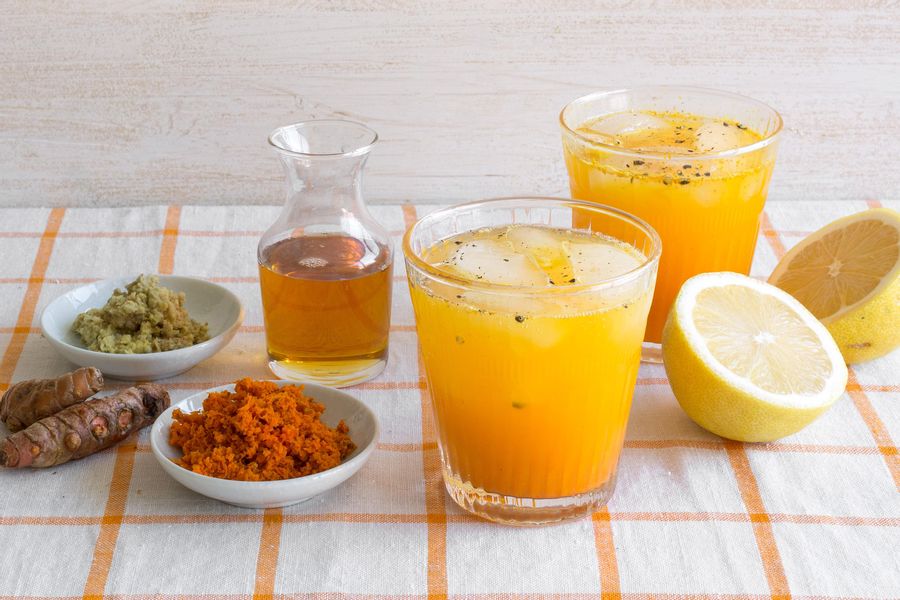 Turmeric Tonic
This powerhouse pick-me-up boasts so many good-for-you ingredients that it should probably require a prescription. Though it may look like a simple list of pantry staples, when combined, they deliver a surge like an electrical current, powering up energy levels with what feels like the flip of a switch. It's got a grown-up flavor with a gentle spicy kick that's easy to drink all day long. The carbonation from tonic water or kombucha helps to aerate the flavors and gives the drink a lively effervescence.


Turmeric Ginger Tonic
Serves 2
½ cup lemon juice (from about 4 lemons)
1/3 cup agave nectar, honey ,or maple syrup
5 ounces fresh turmeric, grated or 1 tablespoon ground turmeric powder
One 2-inch piece fresh ginger, grated
Tonic water or kombucha
Freshly ground black pepper
Ice
Tools
Fine-toothed grater, blender, fine-mesh strainer, large glass measuring cup or pitcher
1 Mix the ingredients
In a blender, blend the grated ginger, turmeric, agave syrup, and lemon juice until smooth. Strain through a fine-mesh strainer into a large glass measuring cup or pitcher.
2 Serve
Fill 2 glasses with ice. Pour the turmeric-ginger tonic over the ice. Top with the tonic water and a few twists of freshly ground black pepper.