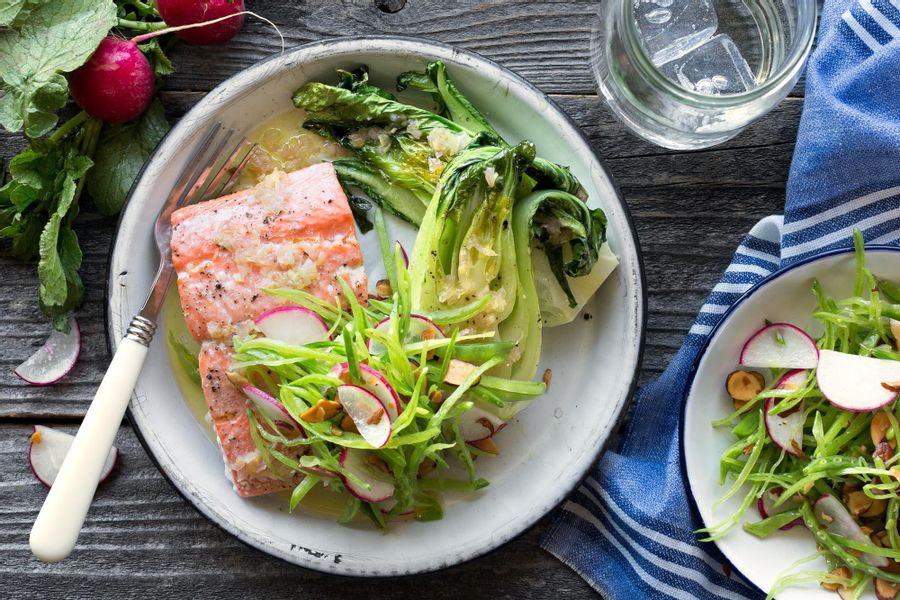 Baked salmon with bok choy and snow pea-radish slaw
Paleo
Gluten Free
Dairy Free
Soy Free
This quick and easy salmon with bok choy dish roasts in the oven in one pan. We used a combination of early spring vegetables for a burst of color and a bright-tasting side salad.
Ingredients
2 ounces sliced almonds
2 baby bok choy heads
1 to 2 shallots
1-inch piece fresh ginger
2 to 3 red radishes
4 ounces snow peas
Two 6-ounce wild Alaskan salmon fillets
1 lemon
2 teaspoons sesame oil
2 tablespoons snow pea dressing (coconut vinegar- coconut aminos- maple syrup)
Instructions
1
Toast the almonds
Heat the oven to 375ºF.
On a sheet pan, spread the almonds into an even layer and toast in the oven until lightly browned, 7 to 9 minutes. Transfer to a plate.
2
Prep the vegetables
Cut the bok choy in half lengthwise. Rinse and pat dry.
Peel and thinly slice the shallots.
Peel the ginger and finely chop.
Scrub the radishes, trim the tops. Cut in half and then into thin half-moon slices.
Cut the snow peas lengthwise into thin strips.
3
Cook the bok choy and salmon
In a bowl, drizzle the bok choy with 1 to 2 tablespoons oil and season with salt and pepper.
In the same pan used to toast the almonds, place the bok choy cut-side down at one end. Place the salmon at the other end and drizzle with 1 to 2 tablespoons oil. Season with salt and pepper. Roast in the oven until the bok choy is tender and the salmon is cooked through, 12 to 14 minutes. While the salmon and bok choy cook, prepare the sauce.
4
Make the sauce
Zest and juice the lemon.
In a pot over medium-low heat, warm 1 tablespoon oil until hot but not smoking. Add the shallots and ginger, and season with salt. Cook, stirring occasionally, until the shallots have softened, 3 to 4 minutes. Remove from the heat, add the sesame oil, 1 tablespoon lemon juice and the lemon zest, and stir to combine. Season to taste with salt.
5
Make the slaw
In a mixing bowl, combine the snow peas, radishes, and almonds. Toss with the remaining lemon juice and the snow pea dressing.
6
Serve
Transfer the bok choy and salmon to individual plates. Drizzle with the sauce and serve with the slaw.
---
Nutrition per serving: Calories 610, Protein: 45g, Total Fat: 39g, Monounsaturated Fat: 17g, Polyunsaturated Fat: 8g, Saturated Fat: 5g, Cholesterol: 105mg, Carbohydrates: 25g, Fiber: 8g, Added Sugar: 6g, Sodium: 210mg