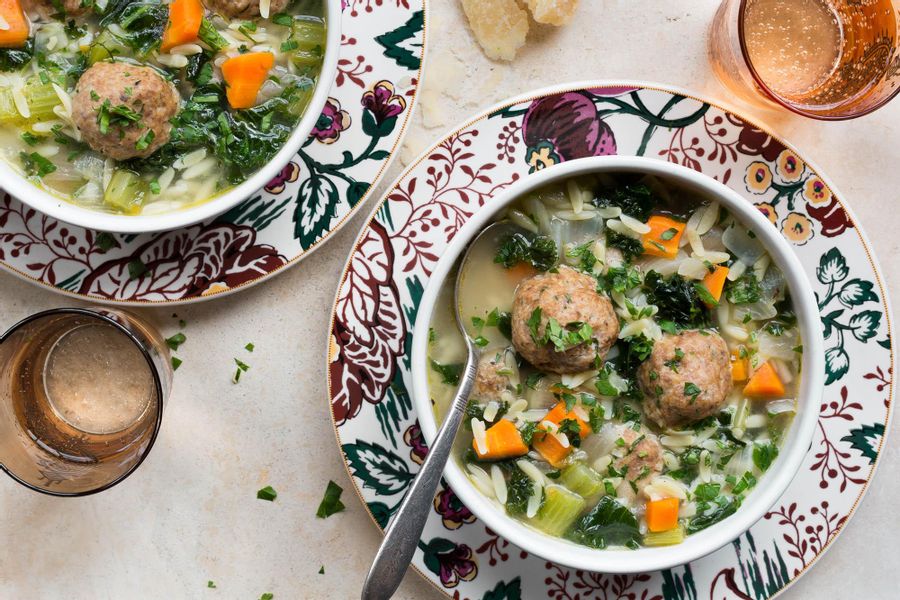 Calabrian wedding soup
The marriage celebrated by this traditional Italian soup is the one between the meatballs and the greens. In Calabria, the meatballs are often made with beef and pork, Chef Justine makes hers with low-fat turkey seasoned with garlic, oregano, and paprika.
Ingredients
1 yellow onion
1 carrot
2 ribs celery
1-2 cloves garlic
Flat leaf parsley
Small bunch kale
10 ounces ground turkey
¼-cup breadcrumb mixture (plain bread crumbs-grated parmesan cheese)
1 egg
2 teaspoons meatball spice blend (garlic-oregano-sweet paprika)
½ cup orzo
1 cup chicken stock
Instructions
1
Prep the vegetables
Peel and thinly chop the onion.
Peel and coarsely chop the carrot.
Coarsely chop the celery.
Finely chop the garlic.
Strip the leaves from the parsley stems and coarsely chop the leaves.
Strip the leaves from the kale stems and chop the leaves into ½-inch thick strips.
2
Saute the vegetables
In a sauce pot over medium-high heat, warm 2 tablespoons oil until hot but not smoking. Add the onion, carrot, celery, and garlic. Season with salt and cook, stirring occasionally, until the vegetables start to soften, 6 to 8 minutes. Meanwhile, make the meatballs.
3
Make the meatballs
In a mixing bowl, combine the turkey, breadcrumbs, egg, meatball spice blend, and half the parsley. Season with salt and pepper, and mix well. Using damp hands, form the mixture into 1- to 1½-inch balls to make 12 to 14 meatballs total. Place the meatballs on a lightly oiled plate or on wax paper.
4
Finish the soup
To the sauce pot, add the orzo, chicken stock, and 3 cups water. Bring the soup to a boil, reduce to a simmer, and cook until the orzo is just tender, 7 to 9 minutes.
Add the meatballs and the kale, season with salt and pepper, and cook until the meatballs are cooked through and the kale is tender, 6 to 8 minutes.
5
Serve
Laddle the soup into individual bowls, garnish with the remaining parsley, and serve.
---
Nutrition per serving: Calories: 670, Protein: 53 g, Total Fat: 23 g, Monounsaturated Fat: 11.5 g, Polyunsaturated Fat: 2 g, Saturated Fat: 4.5 g, Cholesterol 145 mg, Carbohydrates: 65 g, Fiber 8 g, Added Sugar: 0 g, Sodium: 700 mg