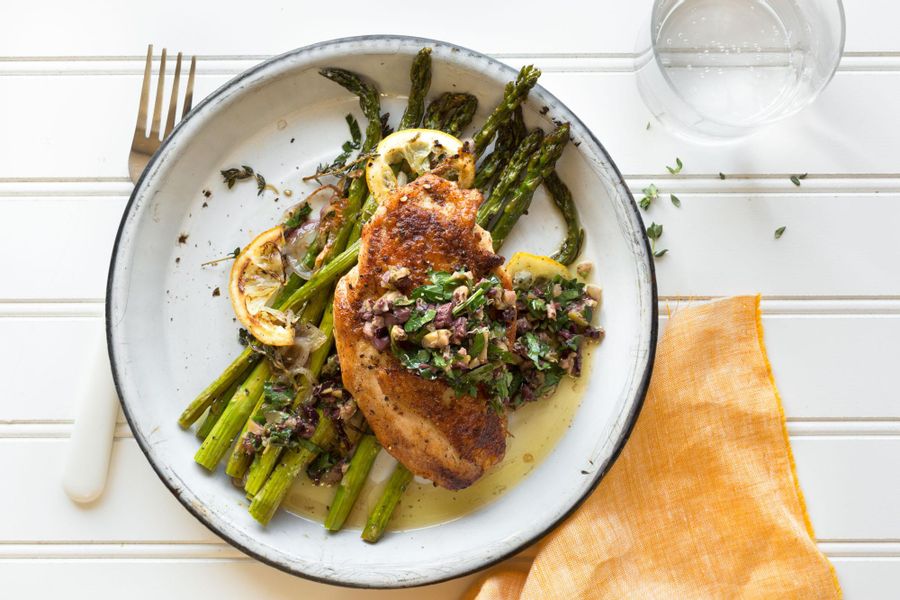 Chicken with roasted asparagus and olive tapenade
Paleo
Gluten Free
Dairy Free
Soy Free
Low Calorie
The olive tapenade brings more than just a delicious dose of richness to this simple chicken dish. It turns out that these little fruits are loaded with healthy monosaturated fat, which benefits the heart, brain, and waistline. They're also a good source of fiber, vitamin E, and disease fighting antioxidants.
Ingredients
1 to 2 shallots
1 lemon
Fresh flat-leaf parsley
Fresh thyme
6 ounces asparagus
Two 6-ounce boneless chicken breasts
1 teaspoon sweet smoked paprika
Olive tapenade (Kalamata olives - green olives - capers - garlic - oil - pepper)
Instructions
1
Prep the vegetables
Heat the oven to 400ºF.
Peel the shallots and cut into ¼-inch-thick rings.
Cut the lemon in half; juice one half and cut the other half into ¼-inch-thick half-moons.
Finely chop the parsley and thyme leaves.
2
Cook the asparagus
On a sheet pan, drizzle the asparagus, shallots, lemon slices and thyme with 2 tablespoons oil. Season with salt and pepper and toss to coat. Spread in an even layer and roast in the oven until the vegetables are lightly charred and the asparagus is tender, 18 to 20 minutes. While the asparagus roasts, cook the chicken.
3
Cook the chicken
Pat the chicken dry and season with salt, pepper, and the sweet smoked paprika.
In a pan over medium heat, warm 2 tablespoons oil until hot but not smoking. Add the chicken skin-side down and cook, turning once, until the skin is browned and chicken is cooked through, 5 to 7 minutes per side.
4
Season the tapenade
In a bowl, mix the olive tapenade and parsley with 1 tablespoon lemon juice. Season to taste with salt and pepper.
5
Serve
Transfer the chicken and asparagus to individual plates. Garnish with the tapenade and serve.
---
Nutrition per serving: Calories: 520 Protein: 38g Total Fat: 36g Monounsaturated Fat: 22g Polyunsaturated Fat: 5g Saturated Fat: 7g Cholesterol: 110mg Carbohydrates: 12g Fiber: 4g Added Sugar: 0g Sodium: 650mg