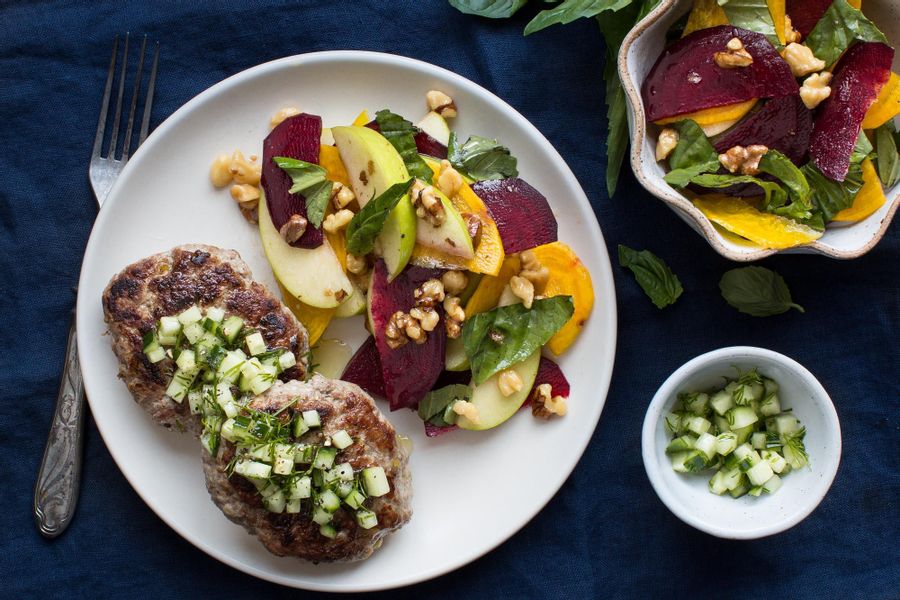 Turkey-apple sausage, beet-apple salad, walnut vinaigrette
Low-fat ground turkey makes a terrific sausage especially with the addition of grated apples, which adds both flavor and helps patties moist. Apples show up again in the beet salad to tie the flavors together in this simple winter meal.
Ingredients
2 ounces walnut pieces
2 green apples
12 ounces ground turkey
2 teaspoons sausage spice blend (sage-ginger-allspice-black pepper-salt-thyme)
4 ounces cucumber
1 bunch fresh dill
1 lemon
12 ounces beets
1 bunch fresh basil
2 teaspoons sherry vinegar
Instructions
1
Toast the walnuts, make the turkey sausage
Heat the oven to 300ºF. On a sheet pan, spread the walnuts in an even layer and cook in the oven until lightly toasted, 8 to 10 minutes.
Coarsely grate one of the apples including the skin.
Transfer the grated apple to a strainer. With the back of a spoon, press out and discard as much of the liquid as possible.
In a mixing bowl, combine the grated apple with the ground turkey and the sausage spice blend. Mix until well combined.
In a frying pan over medium heat, warm a tablespoon of oil until hot but not smoking. Using damp hands, shape the sausage mixture into 4 patties about 1-inch thick. Cook in the hot pan until well browned, 4 to 6 minutes on each side. While the patties cook, make the salsa.
2
Make the salsa
Cut the cucumber into small cubes.
Strip the dill fronds from the stems and coarsely chop the fronds.
Juice the lemon.
In a bowl, combine the cucumber and dill with about 1 tablespoon lemon juice and ½ to 1 tablespoon oil. Season with salt and pepper..
3
Make the salad
Peel the beets. Cut them in half and then into thin half-moon-slices. Rinse the beets with cool water and pat dry.
Cut the remaining apple into 1/4-inch-thick slices.
Coarsely chop the basil leaves.
In a mixing bowl, combine the sherry vinegar with 1 tablespoon oil. Season with salt and pepper. Add the beets, apple, basil, and the toasted walnuts to the bowl and toss to coat the vegetables with the vinegar and oil.
4
Serve
Transfer the sausage patties to individual plates, top with the cucumber salsa, and serve with the salad
---
Nutrition per serving: Calories 670 , Protein: 39 g, Total Fat: 40 g, Monounsaturated Fat: 19 g, Polyunsaturated Fat: 12 g, Saturated Fat: 7 g, Cholesterol: 115 mg, Carbohydrates: 43 g, Fiber: 11 g, Added Sugar: 0 g, Sodium: 940 mg