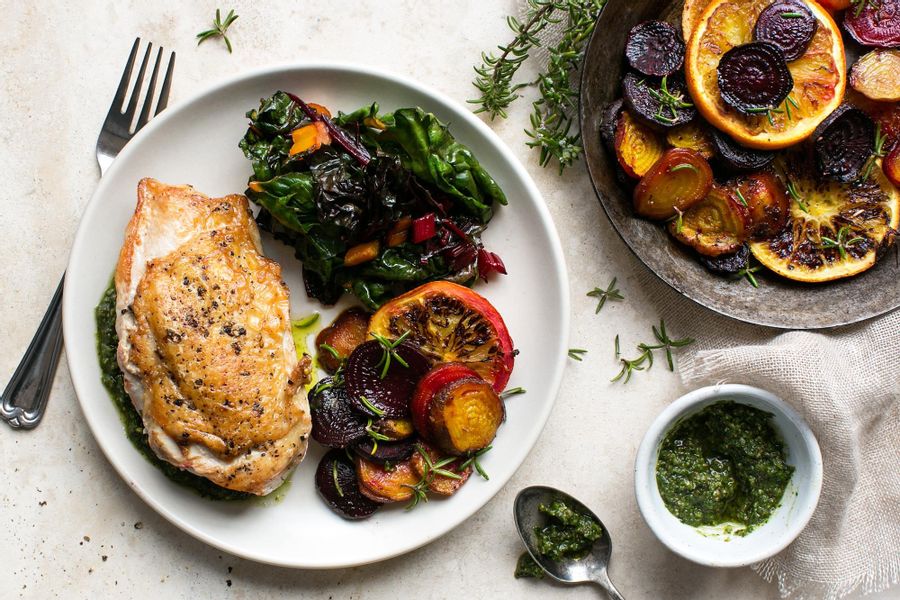 Chicken with roasted beets, chard and parsley pesto
Paleo
Gluten Free
Dairy Free
Soy Free
Ingredients
2 skinless bone-in chicken breasts
1 pound baby beets
1 orange
2 sprigs rosemary
1 bunch Swiss chard
1 teaspoon sherry vinegar
Parsley pesto (parsley-pecans-garlic-oil-salt-pepper)
Instructions
1
Cook the chicken and the beets
Heat the oven to 400°F.
Season the chicken with salt and pepper on both sides.
Scrub the beets, trim the root and stem ends and cut into thin slices.
Slice the orange into 1/2 -inch thick slices.
Chop the rosemary leaves.
On one side of a sheet pan, drizzle the beets and orange slices with oil and sprinkle with the rosemary. Season with salt and pepper. Put the chicken breast, skin side up, on the opposite side of the pan, drizzle with oil and roast in the hot oven until the beets are tender and the chicken is cooked through, 20 to 25 minutes.
Meanwhile, prepare the chard.
2
Cook the chard
Strip the chard leaves from the stems. Coarsely chop the leaves and the stems, keeping them separate.
In a frying pan over medium heat, warm 1 tablespoon oil until hot but not smoking. Add the chard stems, season with salt and cook until they begin to soften, 3 to 5 minutes. Add the leaves, season with salt and cook until the leaves wilt, 2 to 3 minutes. Remove from the heat and stir in the vinegar.
3
Serve
Spread some of the pesto sauce on individual plates and put the chicken breast on top. Serve with the roasted beets, orange and chard.
4
Chef's Tip:
Pound the rosemary leaves with a wooden spoon to release their flavorful essential oil.
---
Nutrition per serving: Calories: 680, Protein: 42 g, Total Fat: 43 g, Monounsaturated Fat: 29 g, Polyunsaturated Fat: 6.5 g, Saturated Fat: 6 g, Cholesterol: 95 mg, Carbohydrates: 32 g, Fiber: 10 g, Added Sugar: 0 g, Sodium: 950 mg